Let's be honest here. How many of us have ever baked up a lasagna to bring a family welcoming a baby or mourning the loss of a loved one? *Raises both hands* But think back to when YOU had a baby. Did you want lasagna, multiple nights in a row? I know I didn't. Even though I LOVE LOVE LOVE lasagna. I made many a carb-heavy casserole for many new parent meals before I had a baby of my own. Because that's what I thought you were supposed to do!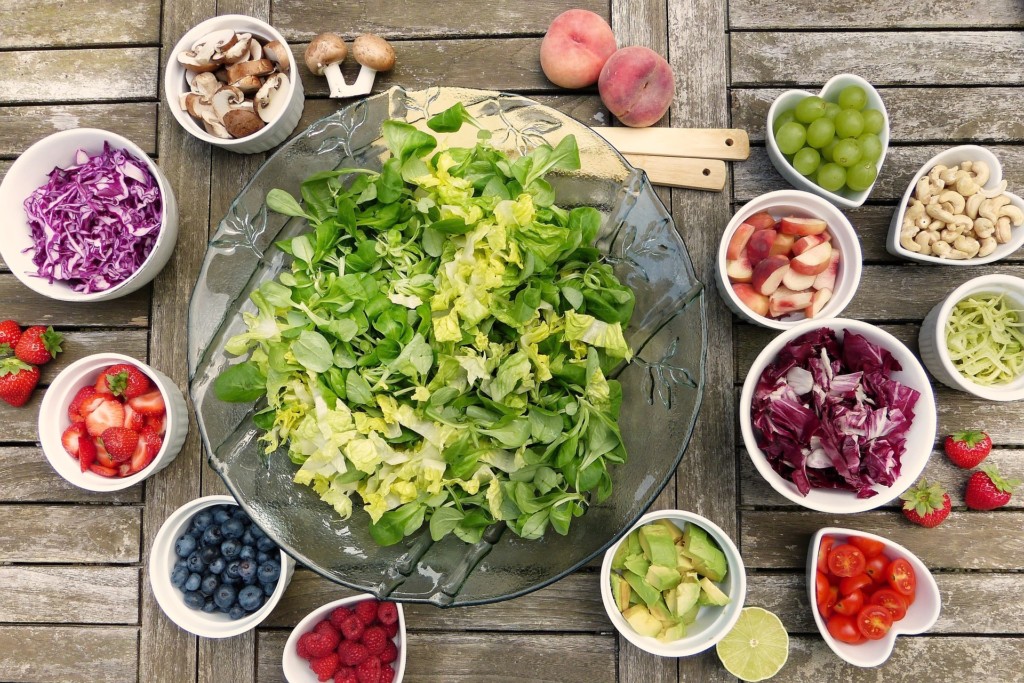 Fast forward a few years. After my son was born, I was craving things like deli sandwiches, salads, and healthier foods. NOT lasagna. Especially because it was spring! Now, don't think for a second I wasn't grateful for the lasagna-like meals we received. In our new parent haze, I was so thankful for everyone who stopped by with a meal, or diapers, or just a smile to meet my baby. (I was equally saddened when I had been notified so-and-so was bringing a meal, only to find out later that they cancelled. So don't do that. Seriously.) But if you're trying to give a new mama a different sort of meal, read on for some options that are a bit lighter on the sweets, breads, carbs, and casserole front.
A Huge Salad with All the Toppings
Think . . . a big box or bag of mixed salad greens. Chopped, cooked chicken. Crumbled Bacon. Feta or Goat Cheese. Sliced tomatoes. Matchstick Carrots. Fresh berries. A bottle of dressing. Your grocery store probably has alot of these things already prepared at the salad bar or produce section if you're short on time. And if there are siblings or a salad-hating husband? Well . . . That's what a frozen pizza is for!
A Smoothie Kit and Deli Sandwiches 
Once again, grocery store to the rescue! Buy a couple bags of frozen fruit, bananas, spinach, and some mix-ins. Spend a little time assembly-line style to make one of these yummy smoothie kits for mama (if you know she has a good blender). Or if she doesn't, make her a fresh smoothie right before you bring dinner. For dinner? Why not bring a variety of deli meats and cheese, crackers or fresh rolls from the deli, some hummus or fancy sandwich spread, lettuce, tomatoes, etc. Then you can make a few sandwiches for the new parents to eat one-handed (or hold the baby so they can make their own sandwiches). A bag of pita chips, baby carrots, and a tub of hummus can round out the meal.
Taco or Burrito Bowl Bar
Everyone loves tacos, right? A taco (or burrito bowl) bar is sure to be a hit and is so simple to throw together. You can make it as basic or intense as you like! Just bring some proteins (ground beef or turkey, shredded chicken, or even lentils), add something to serve it on (rice, chopped romaine, tortillas), and some toppings to finish it off (whatever you like! Cheese, sour cream, grape tomatoes, olives, lettuce, fajita veggies are the basics but you can add or subtract as you please). Add in a jar of salsa and a bag of chips and you're set.
Gyros
The Mediterranean version of tacos is basically gyros, and this sheet pan chicken gyros recipe has been a hit with my family and plenty of friends! Don't skip making them lemony yogurt sauce — it makes everything pop, and this greek lemon rice is a great side. I like to serve it all with a big green salad. It's a filling meal without being carb or cheese heavy, so I think new moms would enjoy it too.
Sheet Pan Meals
Alright, so this is kind of a huge category but I think this would be a creative meal for the family who is okay with a teeny bit of prep work. This is what I'm envisioning: choose a sheet pan meal. Something simple — like this maple & rosemary glazed chicken & veggies, or sausage, chickpeas, & veggies.
Basically, chop and prep all the meat and all the veggies, toss them with the oil and seasonings and whatnot, then throw in a gallon sized ziptop bag. Then when the family is ready to eat, they can throw it on a sheet pan and bake it with minimal effort. You could gift them some aluminium foil to make clean up a breeze, or even buy a few disposable pans to cook everything in. If the recipe you choose has a sauce or any work beyond spread on a sheet and bake, pass on that recipe. If the recipe needs a side, buy or make that ahead so they can just reheat. But sheet pan meals are SO easy and tasty… and if the family can throw it in the oven on their time, they might get a shot at a hot meal for once.
---
The aforementioned dinners sound glorious in my opinion, and a great alternative to lasagna. It could also be fun to throw in some bubbly water, a dessert (coffee blondies? birthday cupcakes with sprinkles?), some granola bars or energy bites for the middle of the night, and maybe a special snack or toy for any big siblings.
Ultimately though, any meal you make (or buy or order or…) for a new mama is sure to be appreciated. Just keep her preferences in mind and ignore me if smoothies and salads aren't her thing. Haha!
What are your go-to meals to show your love to families celebrating a new baby?