Little Sunshine's Playhouse & Preschool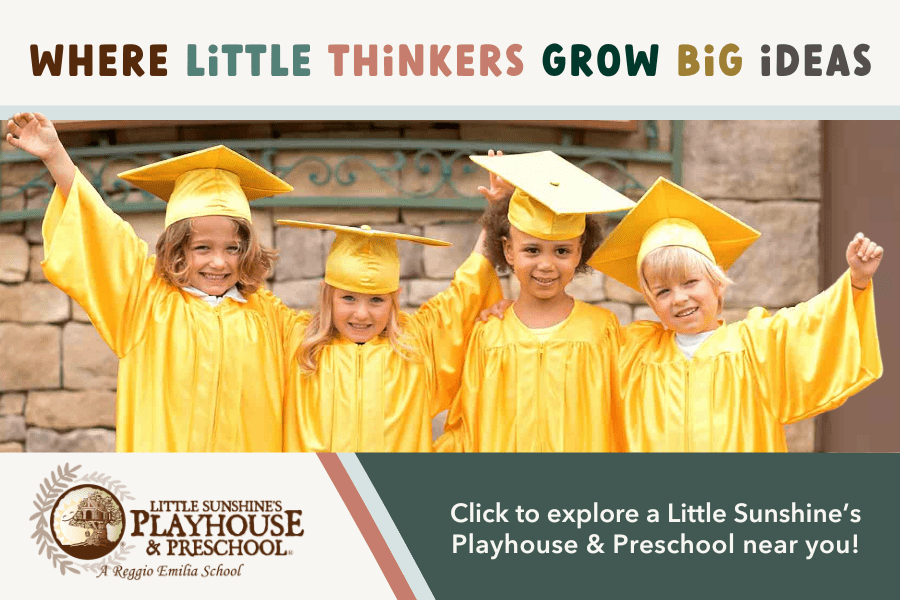 At Little Sunshine's Playhouse & Preschool, we provide a safe and secure environment where your little ones can learn and grow at their own pace. Through our Reggio Emilia-inspired curriculum, we provide a vibrant, dynamic, and engaging learning environment where children learn through play, exploring their interests, and developing their creativity and curiosity.
Picture a place where little hands are always busy, where curious eyes are always wide open, scanning rooms filled with vibrant colors and a variety of materials to spark every imaginable kind of play.
Explore Little Sunshine's Playhouse today, where little thinkers grow big ideas.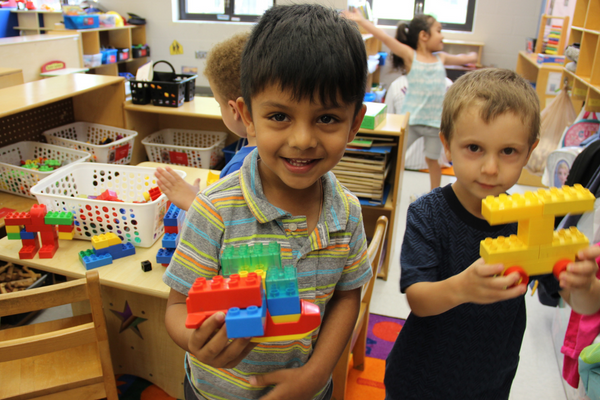 St. Luke's Preschool Program
St. Luke's Preschool Program is located in West Nashville, serving children ages 6 weeks to 5 years old, and open from 6:30 AM – 5:30 PM. We provide a safe and healthy learning environment, as well as breakfast, lunch, and a snack daily. We utilize Frog Street's research-based curriculum in all of our classrooms, as well as Conscious Discipline, which offers solutions for social-emotional learning and self-regulation. As a United Way Read to Succeed site, we offer high-quality classroom environments, qualified instructional coaches, parental engagement opportunities, and more. We are proud to prioritize the child care needs of low-income families who struggle to afford the rising cost of care. We welcome families across Davidson County to apply to our diverse, multicultural program to get your child ready for Kindergarten!
The Academy Child Development Centers and Preschools 
The Academy currently has a total of 11 conveniently located educational preschools in Nashville, Franklin, Brentwood, Cool Springs, Spring Hill, Thompson's Station, Hendersonville and Murfreesboro. All locations can be found on their website.
Abintra Montessori School
914 Davidson Drive
Nashville, TN 37205
Belmont Weekday School
2007 Acklen Ave
Nashville, TN 37212
Calvary Young Children's School
3701 Hillsboro Pike
Nashville, TN 37215
Children's House of Nashville
3404 Belmont Blvd
Nashville, TN 37215
Crieve Hall Preschool
4806 Trousdale Drive
Nashville, TN 37220
Fannie Battle Day Home for Children
108 Chapel Ave
Nashville, TN 37206
First Steps Nashville
1900 Graybar Lane
Nashville, TN 37215
The Gardner School
The Gardner School has 2 locations in the Nashville proper area (Midtown and near Donelson) and 2 in Williamson County.
Glen Leven Presbyterian Church Day School
3906 Franklin Pike
Nashville, TN 37204
*also has a MDO part time option
Gordon JCC Early Learning Center
801 Percy Warner Blvd
Nashville, TN 37205
Green Hills Child Development
3420 Belmont Blvd
Nashville, TN 37215
Kindercare
There are 8 Kindercare Centers within 15 miles of Nashville proper, with more in the suburbs. Check the website for exact locations!
McNeilly Center for Children
100 Meridian Street
Nashville, TN 37207
Montessori Centre
4608 Granny White Pike
Nashville, TN 37220
Montessori East
801 Porter Road
Nashville, TN 37206
A New Leaf Nashville
A New Leaf: 7520 Charlotte Pike, Nashville, TN, 37209
Pip & Pickles Farm: 4341 Pecan Valley Dr., Nashville, TN, 37218
NIA House Montessori School
610 N. 1st Ave
Nashville, TN 37207
Paisley Hall Childcare & Preschool
4311 Idaho Avre
Nashville, TN 37209
Primrose Schools
There are 11 Primrose locations in the Middle Tennessee area. All locations and information can be found on their website.
Rhythm & Rhymes Preschool
114 Cottage Lane
Nashville, TN 37214
Saint Mary Villa Childcare Development Center
1704 Heiman Street
Nashville, TN 37208
South End UMC Preschool
5042 Edmondson Pike
Nashville, TN 37211

Southern Stars Montessori
910 Wedgewood Ave
Nashville, TN 37203
St. Luke's Community House
5601 New York Ave
Nashville, TN 37209
Una Baptist Childcare
1931 Murfreesboro Rd.
Nashville, TN 37217
---
Parent's Day Out
Brook Hollow MDO
678 Brook Hollow Rd
Nashville, TN 37205
City Road PDO
701 Gallatin Pike S
Madison, TN 37115
Community Bible Church MDO
6005 Edmondson Pike
Nashville, TN 37211
Dalewood Baptist PDO Program
1586 McGavock Pike
Nashville, TN 37216

El Jardin de los Niños/The Children's Garden, East Nashville, Parent's Day Out Program
211 North 11th Street
Nashville, TN 37206
G.O.D. Int'l Parent Day's Out Program
401 Center Street
Old Hickory, TN 37138
Hermitage Church of the Nazarene MDO
4151 Saundersville Rd
Old Hickory, TN 37138
St. Ignatius MDO Program
601 Bell Road
Antioch, TN 37013
TGAC's Busy Bees
Tennessee Gymnastics Athletic Center
3511 Hwy 31 W.,
White House, TN 37188
West End Community Church MDO
235 White Bridge Road
Nashville, TN 37209