2022 Nashville Private School Guide
With so many private school options in the Nashville area, finding the right fit for your child can be overwhelming.  Our Nashville Moms team has compiled a guide that we hope you find useful in your search.  We have enjoyed partnering with the amazing schools highlighted below, so be sure to check them out in person as you navigate your private school decision!
Harpeth Hall
At Harpeth Hall, ambitions become achievements and girls become purposeful young women prepared to make a meaningful difference in their communities and the world.
As an independent, college-preparatory school for students in 5th through 12th grades, every aspect of Harpeth Hall is designed with girls in mind because we know how girls learn best. Harpeth Hall faculty embrace the small class size of a 14:1 student-teacher ratio and create hands-on experiences using everything from telescopes to power tools to elevate concepts beyond the textbook and make lessons memorable.
The Harpeth Hall arts programs encourage students to explore creative expression without limits as students create original paintings, pottery, and poetry and step into the spotlight as actors, screenwriters, and musicians whose creative endeavors shine on stage.
In athletics, girls take healthy risks, push themselves beyond their comfort zones, and enjoy unforgettable experiences along the way. In the 2021-2022 school year, Harpeth Hall claimed a school-record five state championships with titles in cross country, soccer, riflery, lacrosse, and track and field.
For more than 155 years, Harpeth Hall has held true to the idea that girls deserve an excellent education full of possibilities and purpose. To learn more about Harpeth Hall, where students learn to think critically, lead confidently, and live honorably, visit HarpethHall.org.
Franklin Road Academy
FRA is a coeducational, independent school in Nashville offering students in pre-kindergarten through grade 12 an exceptional educational experience within an inclusive Christian community, all on one campus. We value a well-rounded student experience, and our intentional class size allows students to fully engage in the classroom while competing at a high athletic level or perfecting an art form.
Each year, 100 percent of our graduates are accepted to four-year colleges and universities. Our expert faculty challenge our students to think critically in an ever-changing world. Our students go to college confident in their abilities to tackle the most challenging problems, communicate effectively using a variety of media, and ask challenging questions of their own.
At FRA, we are big enough to offer students all of the academic and co-curricular options and small enough that our students are known by each other, faculty and staff members, and parents. We encourage our students to take risks and discover their passions, and our students are able to succeed in the classroom while also competing on our athletic teams, starring in major arts productions, and participating in numerous clubs and other leadership opportunities.
Montgomery Bell Academy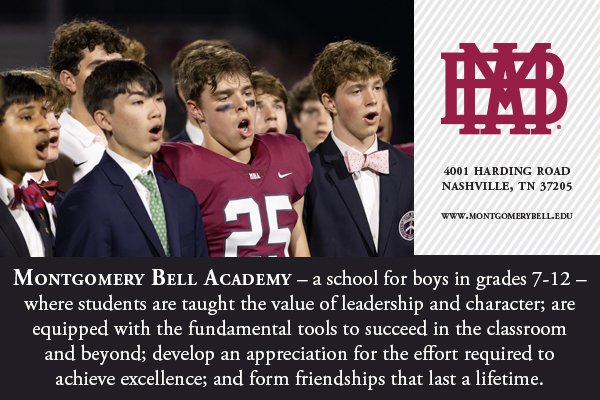 Montgomery Bell Academy offers young men an exemplary college preparatory experience in an inclusive community, assisting them to be "gentlemen, scholars, and athletes" and young men of wisdom and moral integrity who will make significant contributions to society.  MBA, as a day school for young men in grades seven through twelve, seeks to enable its students, first, to achieve excellent academic preparation for college and, second, to become responsible and productive citizens within the community.
Montgomery Bell Academy expects its students to have a high regard for others and a sense of responsibility to school, family, and community. Therefore, it endeavors to help each student develop citizenship and concern for others. MBA believes that positive mental, physical, and spiritual growth take place in a thoughtful and respectful environment, and the school expects its students to conduct themselves as gentlemen at all times.
We look forward to introducing you and your son to Montgomery Bell Academy — home of the Gentleman, Scholar, Athlete.
Episcopal School of Nashville
Diversity, inclusiveness, and a sense of community are vitally important at Episcopal School of Nashville. We know that all persons are special in the eyes of God; therefore, we have intentionally cultivated a culture of inclusiveness that values each student's uniqueness and celebrates differences as a reflection of our Episcopal Identity. We welcome people of all faiths. ESN's vision is to shape students who are intellectually, spiritually and responsibly engaged with the place, community, and world they call home. Our mission is "dedicated to nurturing the joy of learning and the spirit of discovery in each of our students."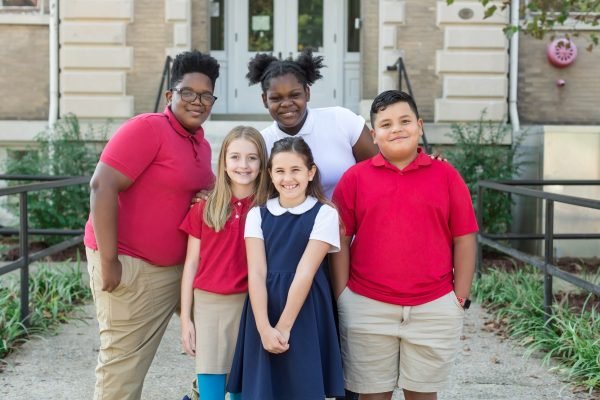 Nashville Private Schools