Fall is near, and you know what that means: pumpkin spice time!! To me, this should be a holiday in itself. I love all things pumpkin flavored and get very eager to have my first PSL of the season (if you aren't part of the pumpkin lovers club, PSL means pumpkin spice latte). We have gathered up the list of places you can check out in Middle Tennessee to get your pumpkin spice fix (and other fall flavored treats!).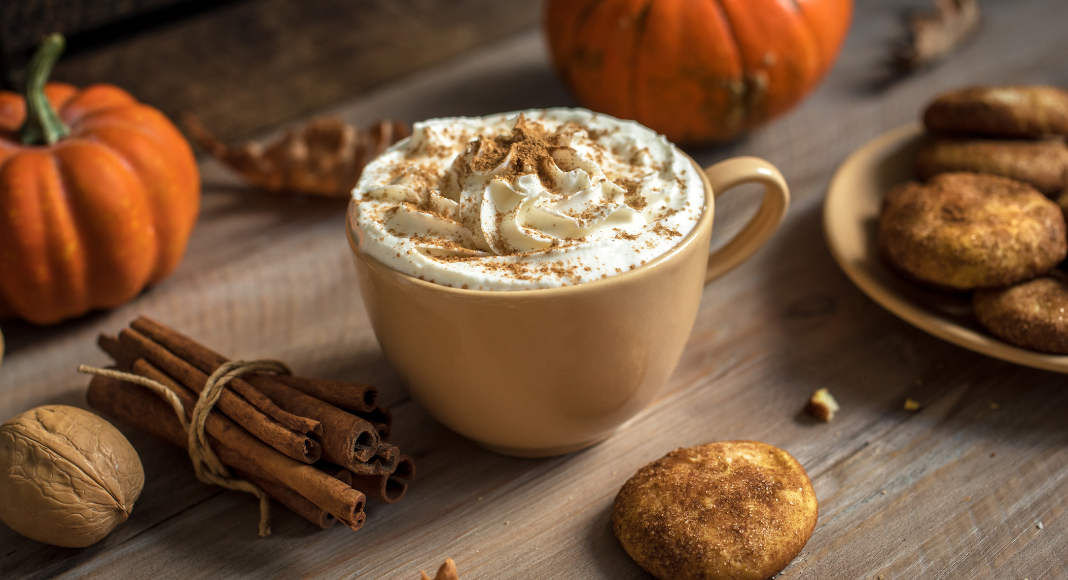 Where To Get Your Pumpkin Spice Fix in Nashville
Yeast Nashville: Yeast Nashville, located in East Nashville, is baking up a fabulous pumpkin kolache! Available now through November, it is a Pumpkin Kolache Dough filled w/ Sweet Cream Cheese & sprinkled w/ Pumpkin Spice! Run, don't walk!!!
East Park Donuts & Coffee: East Park Donuts, located off Main Street in East Nashville, has a fantastic variety of specialty donuts and other treats. They have started to roll out fall flavors, so pumpkin is sure to be on its way! Keep an eye on their Instagram page for announcements, and in the meantime, try their salted caramel and s'mores donut, and the caramel apple fritter to get into the fall spirit!
Parlor Doughnuts: Parlor Doughnuts has their fall menu out! They brought back some classic favorites and added some new creations-all inspired by Midwest Harvests! Flavors include salted caramel, pumpkin chai cheesecake, and apple pie. They offer vegan, gluten-friendly and keto versions! Available now through the end of November!
Joanie's: Joanie's in Murfreesboro released their fall drink menu on September 1! This coffee shop has some amazing fall drinks including the PSL, but others such as Caramel Apple Spice, Bon Fire Latte, S'mores Latte, and Sweater Weather latte. They are all delicious and can be ordered hot or cold. Look for food specials to come later, usually in October, such as pumpkin french toast and apple pie crepes.
le macaron: Visit the Fifth + Broadway location for a pumpkin spice latte and receive a free beignet trio!
Farm City Coffee at the Nashville Farmer's Market: If you are visiting the Nashville Farmer's Market, be sure and stop be Farm City Coffee with pumpkin flavored coffees! Choose from caramel pumpkin chai, pumpkin harvest spice latte, maple bourbon latte, or pumpkin cream cold brew.
Scooter's Coffee: Scooter's fall menu is now available. You can choose from cold or hot pumpkin drinks, a pumpkin caramel muffin or a pumpkin spice cake bite!
Slow Hand Coffee + Bakeshop:  This gem is located in East Nashville, off of Gallatin. They have wonderful breakfast and lunch items! They have teased their fall menu is approaching, and it is a must try! The pumpkin cream cheese muffin is already back. Their pumpkin pie latte sauce is made from real pumpkin, toasty spices and brown sugar. Their vegan sweet potato muffins are a perfect compliment.
Just Love Coffee: There are several locations scattered across Middle Tennessee, and they have a variety of great foods and drinks! Try their pumpkin spice latte with REAL pumpkin!
Bongo Roasting Company: Bongo Roasting Company will soon release its Harvest Moon seasonal blend coffee (with notes of clementine, brown sugar, and spices in a medium roast). Available while supplies last online and in their cafes @fidonashville @bongojava @bongoeast!
Starbucks: I think Starbucks is a must on the list, because they are widely associated with the pumpkin spice latte! They are already serving their fall menu, which went live August 24th. It not only includes the original PSL, but also apple crisp drinks, pumpkin muffins and apple croissants. If you aren't a fan of pumpkin, try their apple treats!
Dunkin' Donuts: Dunkin' released their fall menu on August 16th. They have a wide variety of ways to get your pumpkin coffee: iced, frozen, hot, with chai, nutty, or cold brew. They also serve pumpkin muffins, and donuts! For the non-pumpkin lovers, they have a plenty of other drinks to offer and maple sugar bacon! Pumpkin and bacon? Yes, please!
Krispy Kreme:  Krispy Kreme Doughnuts kicked off their fall menu first this year! What is better than a hot and ready doughnut from KK? The answer is a hot and ready pumpkin doughnut! They are offering pumpkin spice in four different doughnuts and you can try a specialty dozen today, made of 3 Pumpkin Spice Maple Pecan Doughnuts, 3 Pumpkin Spice Original Glazed® Doughnuts, 3 Pumpkin Spice Cake Doughnuts, and 3 Pumpkin Spice  Cheesecake Swirl Doughnuts. They also have pumpkin flavored lattes and coffees.
IHOP: Pumpkin Spice pancakes are back at participating IHOP locations. If you have never had these, you must try them. It is the perfect blend of pumpkin and seasonal spices, topped with hot maple syrup, and wonderful for breakfast, lunch or dinner!
First Watch: First Watch has brought back their fall menu and it is full of goodness! Pumpkin pancakes top the list, but they also have a caramel crunch cinnamon roll that looks scrumptious.
Project Donuts: Project Donuts, located in Murfreesboro, is a must try for donuts anytime. But they just launched 2 new flavors: House made candied bacon strips over real maple syrup glaze, and a  pumpkin spiced cream cheese crème brûlée! It is so fun to eat! You'll need to bite into a crackling sugar coating to get to the pumpkin spiced cream cheese filling! (I have tried it, is is really good!)
The Dapper Owl: The Dapper Owl is a new coffee shop in near downtown Murfreesboro, with the coolest vibes! Their fall menu releases on September 1, with some unique treats like made from scratch s'mores bars and a granny apple drink!
Dairy Queen: Dairy Queen has always been a wonderful longtime traditional place for my family and I to get our ice cream fix. They have all kinds of wonderful blizzard flavors, and lucky for us, they get in on the pumpkin trend as well. Their Pumpkin Pie blizzard was released August 29th, and is always a customer favorite. They will have other fall flavors as well!
7-Eleven: The convenience store released its pumpkin spice latte and coffee in early August, so you can stop by there when you are fueling up, and get your PSL fix!
Jamba Juice: If you love pumpkin spice, but want to keep it on the healthier side, then stop by Jamba Juice for a Pumpkin Smash! They have a dairy version as well as a plant-based version!
Poppy & Peep: Poppy & Peep is a father-daughter owned micro-chocolate factory, located near the Wedgewood-Houston neighborhoods. They have their fall bon bons out now, including spiced pumpkin, chai latte and apple cider caramel flavors! They also have a pumpkin vegan white chocolate bar. They would make great gifts for a special someone, or a treat for yourself!
Bell Buckle Coffee Shop: I highly suggest taking a day and driving down to Historic Bell Buckle for a day of antique shopping and a stop at this coffee shop!! They have several pumpkin treats including a latte, muffins, moon pies, and cake!! They have caught my attention!
Hattie Jane's Creamery: Hattie Jane's has multiple locations across Middle Tennessee, giving you a chance to stop by and try their fall flavors they are currently scooping. Choose between toasted s'mores, brown sugar & cookie dough, dairy-free salted caramel with apple butter, and pumpkin pie!
Golly G's Coffee, Ice Cream & Sweets: If you live in Clarksville, or are visiting, stop by Golly G's on Friday mornings for a Pumpkin Spice Sweet Roll. Starting September 6th, they will also have a pumpkin latte, shake and cold brew!
Wendys: Wendy's has announced they will be releasing a pumpkin spice frosty and cold cream brew on September 12!
Andy's Custard:  With locations in Murfreesboro, Gallatin and Spring Hill, Andy's Custard is a real treat! They will release their Pumpkin Pie Concrete in mid-September! Other fall treats include a S'mores Jackhammer, and Apple Pie Concrete. They also have caramel apples now!
Mimi's Cafe: It's pumpkin season at Mimi's Café! Stop by for muffins to go, pumpkin spice lattes, and pumpkin griddlecakes! Their bakery items and breakfast is phenomenal!
Donut Country: Donut Country is a hometown staple for the folks in Murfreesboro! They have been around many years, making tasty donuts! They just announced their pumpkin spice cake donuts are back!! If you are in the 'Boro, be sure and stop by for one!
WIN Bubble Tea: With multiple locations across Nashville, you can stop in and try a pumpkin spice brown sugar bubble tea!
Your local grocery  – Be sure and check out the bakery at your local grocery! They are sure to be stocked with pumpkin breads, and muffins! Also Goldfish has partnered with Dunkin' Donuts to release Goldfish Dunkin' Pumpkin Spice Grahams, in stores September 1. Oreo has already released its pumpkin spice cookie, and you can find multiple brands of pumpkin spice coffee creamer! Again, if you looking to cut calories, check out Califia Farms plant based cold coffees (REALLY good!) and the RxBar pumpkin spice protein bar! You can also get pumpkin flavored coffees, so you have it at home and can save money and it tastes just as good if you add a little whipped cream and cinnamon or pumpkin spices to the top!
If you spot pumpkin flavored treats around your neighborhood, be sure and comment and let us know, so we can add them to the list. We will update this list as the season progresses!