My husband and I bought our current home three years ago. It needed (still needs) a lot of work. I have million dollar taste and about a $100 budget so we've done most of the updating ourselves. One of my least favorite things in our home was our kitchen back splash. It was a green blue color and looked like it belonged in the basement bathroom of a 1980s cabin. Not exactly my style. So, as I do with most projects, I researched only to find conflicting tutorials, crossed my fingers, poured some wine and got to work. I figured I couldn't make the back splash look any worse so I wasn't very nervous about attempting to paint it. Our results were amazing and today I'm here to share with you how I painted our dated tile to give it a gorgeous, light and bright update.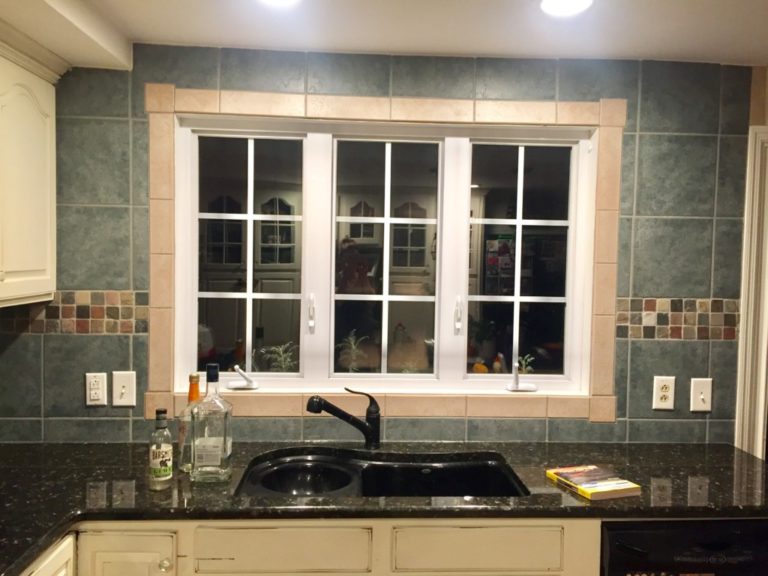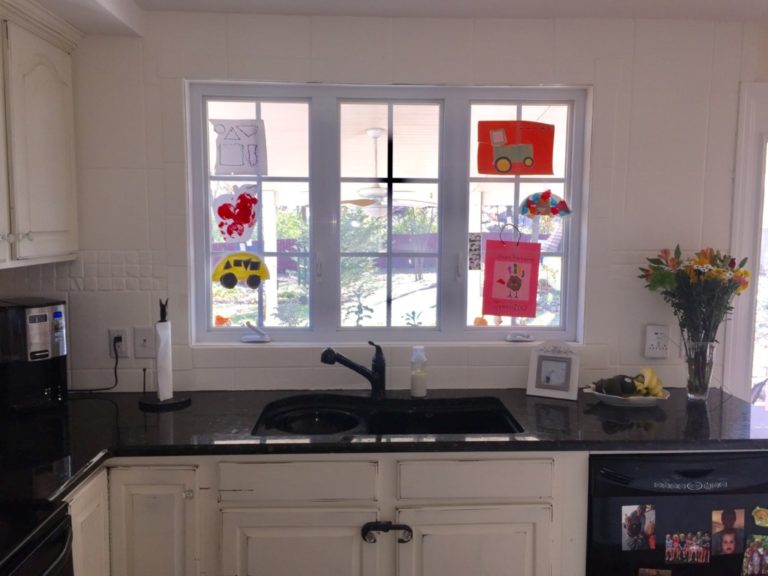 When we moved in, our kitchen was dark. Dark cabinets, dark counters, dark appliances, and a dark back splash. I hated it! One of the first things we did? Paint our cabinets with DIY chalk paint. Future post! This immediately brightened the space up and really made the counters and appliances pop. But that dang back splash. It was such an eye sore! So finally, after three years of silently cursing at it under my breath, I gathered my supplies.
What you need:
Bucket to mix your cleaner in
Gloves that go up to your elbow
Scrubby sponges
Clean cloths (that you will probably trash afterwards)
Paint brushes – 1 for primer, 1 for oil paint
Small foam rollers and tray
Mask, Tape, Drop Cloths
Home Depot Behr Oil Based Paint in color of your choice for tile
Prep the space:
First we mixed our sodium phosphate cleaner in a big bucket and scrubbed thirty years of grease off the back splash. This was nasty. I pride myself on having a very clean house. We spent days cleaning our house when we moved in with much of the time spent in the kitchen. But the grease and grime that came off with this cleaner was shocking and made me want to gag! Use a good pair of gloves, crank some Taylor Swift, and get to work. I went over the back splash three times, each time wiping down with a clean cloth. This step took me about an hour. I let the back splash (more specifically the grout) dry for two full days before going on to the next step.
Prime:
There were conflicting tutorials on whether or not to prime. Because I still had not chosen the color I wanted paint tile, I decided to go ahead and prime. Tape your corners, put something down to protect your counters, and open your windows. My husband cut in on all the corners and painted the grout with a brush. I rolled behind him. We did one coat of primer and deemed it professional enough. This stuff dried fast, so we decided to paint the next night.
Choose your paint color:
I had some trouble with this. I knew I wanted a light back splash — but not quite white. We painted our cabinets an antique white and I later distressed them with sand paper. I always suggest browsing Pinterest to see what catches your eye. I finally decided to use our cabinet color and told the paint person at Home Depot to mix the color at only 50%. I wanted it to be the same color as my cabinets but a slightly less bright shade. The most important thing to remember is that you need it mixed as an oil base. Home Depot sells quarts which is all we needed. You can go to Lowes too, but they only sell gallons.
Paint the first coat:
A word of caution: Oil paint SMELLS BAD. Like, awful headache inducing bad. Do this step when your kids are out of the house or asleep for the night. Open your windows and put on a mask. Oil paint also takes forever to dry but will start getting tacky and sticky pretty fast. Work in small sections. I worked in about eighteen inch sections and completely finished before moving on. Do as before, cut in corners and paint the grout. Then follow over with the foam roller. Remember to check for drips and runs. Once you have finished a section, don't paint over it again. Oil paint dries very differently than regular paint, and you don't want to do a second coat until the first has completely dried. This step took about an hour. Turn on some fans, walk away, and let it dry for at least twenty-four hours.
Second coat:
We waited twenty-four hours before doing a second coat. Follow the exact directions as above.
Stand back and admire:
We did all our painting at night, so I felt like a kid on Christmas Eve our last night of painting. I couldn't wait to see what it would look like with daylight. I was floored the next morning. My husband and I just kept saying over and over to each other, "It looks so good." I can't believe I waited so long to paint the tile! That night I painted our super chic (lying) magenta and pinkish fireplace tile. Another amazing before and after. This entire project cost under $50. Don't be afraid to try it! And the great thing about paint? If it doesn't quite turn out how you wanted, you can try another color.
Happy painting!