If running around life-size dinosaurs in the great outdoors sounds like your (or your kid's) idea of wonderland, you need to take a trip up to Dinosaur World.  The main attraction is a 3/4 mile paved, shaded walking loop that brings you face to face with statues of different species in the woods. It's really quite lovely and stroller-friendly (and well-behaved-leashed-dog-friendly). You can't touch the dinosaurs on the path (there's a rope fence lining the journey); however, if your little one is DYING to touch something along the way, you get to climb on woolly mammoths around the halfway point.
With every child's admission, you get a pass to the Fossil Dig. Kids get to dig in a huge sandbox for fossils, and each kid gets to pick their favorite three of the ones they find to take home. There's also a pretty great indoor exhibit of fossils and artifacts and an un-shaded playground to explore. Tickets for a separate Gem Mining activity are available for purchase as well. Each person gets a bag of gravel and gems to sift. Whatever you find, you get to take home!
To get there, plan on a 1.5 hour car ride up the great Interstate-65 to KY exit 53. You know you've arrived when you see the gigantic 'Photosaurus' on the west side of the highway. To maximize your time, pack a lunch, snacks, and water (or stop at a fast food joint before you enter). They open at 8:30, so you can easily get there with plenty of time to play before they close at 5.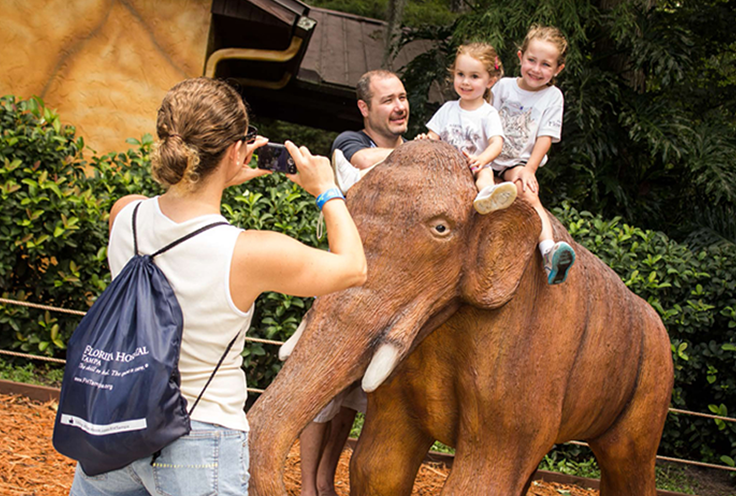 I like to walk the loop and the (air-conditioned) indoor exhibit, eat our packed lunch, and then let the boys play on the playground before returning to the car for a solid nap on the way home. They do not serve food at Dinosaur World, but they have a large gift shop with plenty of dinosaur toys and fossils to make your child scream "I want that one! No, that one!"
If you want to save money on admission, you can purchase tickets ahead of time. Kids under 2 are free. On the way up and back, you'll pass some other great attractions:
Cave City at KY exit 53 – There are a few Mexican and chain restaurants if you're looking for grub on the way out of town… but there's also a ton of underground and above-ground adventures if you're looking for more to do.
Mammoth Cave at KY exits 48 and 53 – Definitely worth a weekend trip. The campground is delightful and they have several caving tours suited for little ones. Cooper walked the entire 'shortest tour' at three, while we mostly carried Franklin, who was 1.5 at the time (no strollers permitted). The welcome center for this park is worth the trip, to be honest. They have created an amazing walk-through exhibit to explore what makes caves, animals that live in and around the Mammoth cave system, movies, and a hole in the dang wall for little ones to crawl through while you read all the plaques and push the buttons on all of the interactive displays.
Bowling Green at KY exit 28 – Corvette Museum is open to all and the assembly plant offers tours to folks seven years old and up.
Sumner Crest Winery at TN exit 117 – Added this one in case you need to pick up a bottle or two after all that dinosaur excitement!