Peep This Actors-Directors Guild is a nonprofit organization that presents an annual film camp called On the Set Summer Film Camp which is currently based in Birmingham, St. Louis, and Houston.
This year, in partnership with Nashville-based production company Optomiz Productions, the week-long camp (June 1st-10th) is headed to Nashville for the first time. Additionally, Optomiz Productions has also agreed to sponsor all participants for this year's first camp with a scholarship waiving the $200 enrollment fee per student. With 30 available slots, students between the ages of 10 to 18 will have the opportunity to go on a live action set to produce a short film that stars a real Hollywood actor. 
Auditions are currently set for May 14th from 9am-1pm at the Embassy Suites Vanderbilt.
For actors, please come prepared to do a 1-to-2-minute monologue or performance. Behind the scenes candidates (i.e., directors, producers, cinematographers) will be interviewed. Auditions and interviews will not last longer than 15 mins.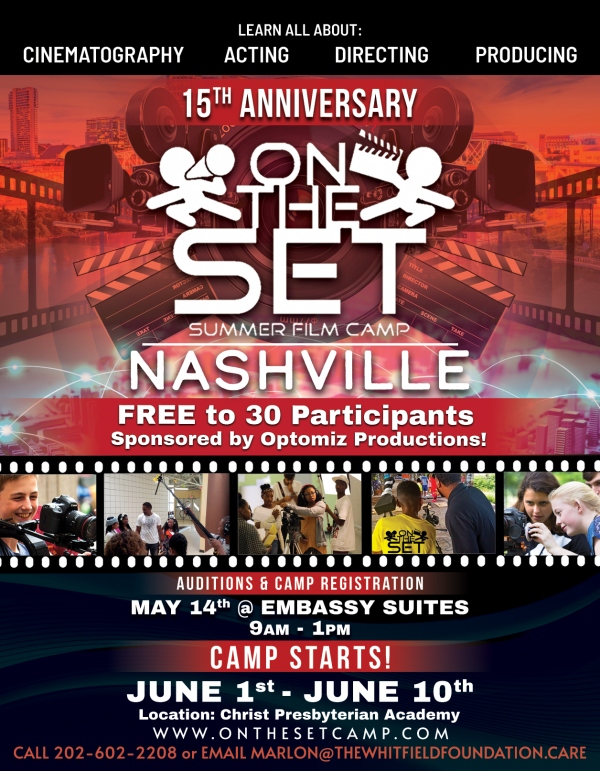 This popular film camp will give students full responsibility of each element of film production, while being supervised by a professional. Once the film is ready to be shown, On The Set presents a Red Carpet Premiere and Awards Show, giving students the chance to have a real life Hollywood experience. Previous On the Set celebrity guests include, Carl Anthony Payne, Keisha Knight Pulliam, Wendy Raquel Robinson, Brian White, Lamman Rucker, among many others. The celebrity guest for this year's camp will be announced shortly. Auditions are currently set for May 14th from 9am-1pm at the Embassy Suites on West End.
The company's goal is to show that Hollywood is not the only place for one's stardom in the entertainment industry, there are opportunities forming within Nashville for emerging stars to be discovered. Check out this video on Talk of the Town!
For more information, please call 205-602-2208 or email 

[email protected]

. It's Lights! Camera! Action!