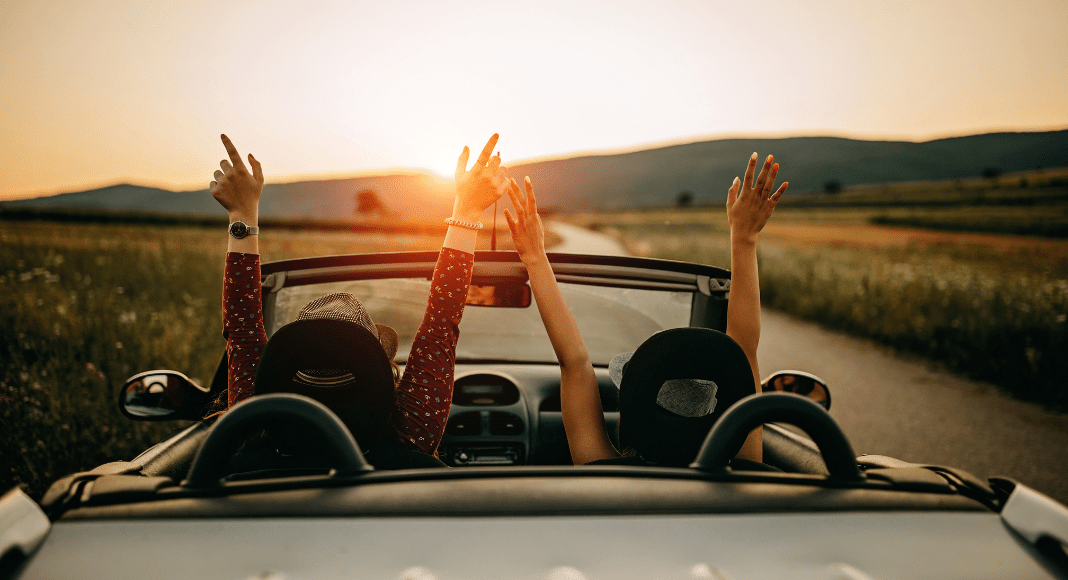 Girls weekend! Who doesn't love a couple of days away with some girlfriends? It's the perfect blend of fun and relaxation. If you are planning an upcoming girls trip, we have some ideas for you.

Girlfriend Getaway Trips in Driving Distance from Nashville
Tiny Homes
This newish trend of tiny home living is here to stay! There are some adorable tiny home communities about an hour away from Nashville, making them the perfect weekend getaway. Check out these communities:
This community has walking trails, community fire pits, and a community lake. While a short drive from Nashville, it feels like a million miles away- it's the perfect place to rest and recharge.
The Retreats at Deer Lick Falls
This community has its own waterfall, hiking trails, a community playground, and community pavilions.
While you're there, grab some delicious food at one of these local spots:
Mountain Goat Market-They specialize in unique sandwiches, salads, and pizzas.
For a nicer dining experience, try High Point. Their menu boasts steak, fish, and pasta dishes.
If you want to truly hang out with the locals, a visit to Hank's Corner Grill is a must! It's a sports-bar type atmosphere, but the food is great!
There are several great hiking trails and waterfalls in the area, including Fiery Gizzard and Foster Falls.
A getaway spot that is a bit of a further drive but full of fun things to do is Asheville, North Carolina. Some fun things to do:
Biltmore: Spend the day at Biltmore, taking your time to enjoy the lavish furnishings of the house, the beautiful gardens, and the winery. Take a break at one of their restaurants and browse their gift shops.
Shop: You could easily spend a day exploring downtown Asheville's hundreds of boutiques, galleries and local stores. Also, head to Asheville Outlets for deals at 70+ national brand stores.
Gardens: The North Carolina Arboretum is a must for plant lovers. They also offer many workshops that your group could attend together. Another great spot is the Botanical Gardens of Asheville with a half-mile walking trail.
Art: Asheville is one of the top cities for art creation in the country. A top spot to see artists at work and find world-class art is the River Arts District.
There are many great hotel options in the area, but if you're looking to make your trip extra memorable, book a bed and breakfast! Check out this site for some cool options.
It's no secret that eating in Ashville is half (most?) the fun! There are restaurants for every palette. Here is a guide of several different varieties.
Another close option to Nashville is Chattanooga. Chattanooga is only a couple hours drive from Nashville, but a great getaway weekend spot.
Eat:
Hi-Fi Clydes-Venture to Hi-Fi Clydes for a chill dinner with a side of live music! The perfect spot to transition into your night out.
Julie Darling Donuts-Sweet tooth? You'll want to take a bite into a famous Julies donut.
Alleia-Great pizza + pasta, great cocktails, and great service. What more could you ask for? Tip: If you didn't make a reservation, there's a first-come, first-serve bar area with the full menu available!
Clumpies Ice Cream- Another Chattanooga classic! A sunny day always calls for an ice cream cone. Squeeze this one in while shopping around Frazier Ave or after your walk through Coolidge Park.
Flying Squirrel-Chicken biscuit and a mimosa, please! The perfect Sunday boozy brunch spot with live music upstairs.
To Do:
Walnut Street Bridge-Must-walk in Chattanooga!
Whiskey Thief-As you finish walking the bridge, you'll stumble upon the dreamiest rooftop bar with the most beautiful view of the city! Highly recommend treating yourself to a cocktail or two, while taking in the scenery.
Stir-Good ole (trendy) cocktail bar on Market St. Perfect place to start your night out! Definitely don't leave without stumbling into the other spots along the strip.
Unknown Caller-Want to feel like a Londoner in Chattanooga? Come to this London speakeasy. It's a super fun, yet chill spot with a British theme. Enter through the bright red phone booth and in true speakeasy fashion, dial in the code (hint on the phone booth) to get in!
Blumenwagen-These days, it's not a girl's trip without a flower truck sighting! The cutest little red flower truck.
Stay:
Crash Pad-Accommodations for the Adventurous!
Bode-Hip & trendy
The Read House-A historic Chattanooga hotel with modern day comforts
We hope we've given you some ideas for a fun-filled, relaxing girls' trip! The possibilities are endless!