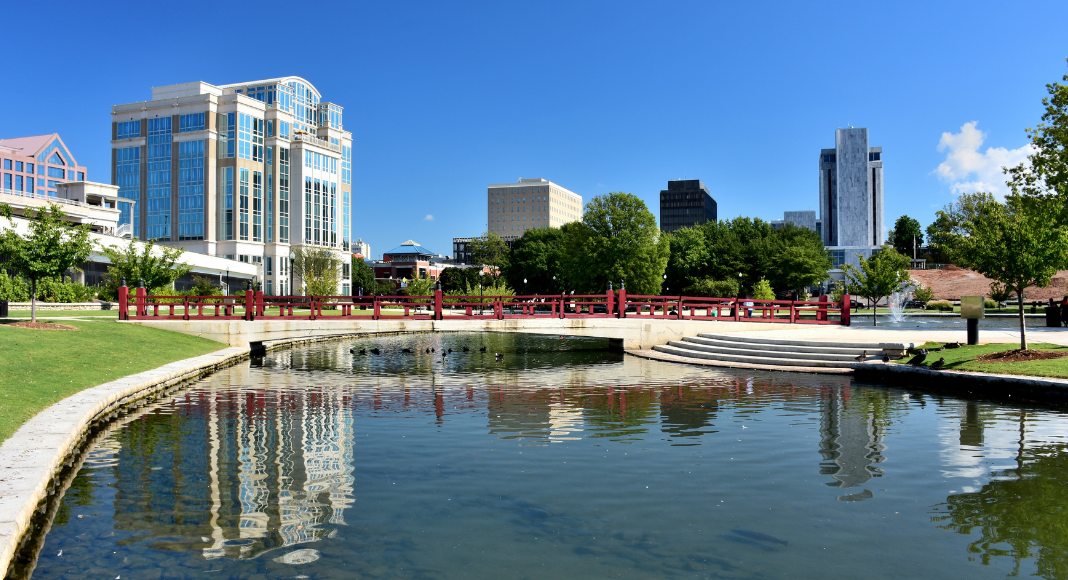 You might know Huntsville, Alabama for The Space & Rocket Center. But this little Southern city has so much more…including art, wonderful festivals and annual traditions, trains, Legos, and the foothills of the Appalachian Mountains. We moved to Nashville from Huntsville nearly four years ago and love to head south to visit good friends and enjoy the lovely city. Only two hours away, you could easily make this a day trip—or choose instead stay on for a weekend!
Family Trip to Rocket City (Huntsville, AL)
Huntsville bills itself as The Rocket City and for good reason. As you drive south on I-65 from Nashville, you can't help but notice the ginormous rocket welcoming you to Alabama at the state's welcome center just a few miles south of the border. And as you make it into city limits heading east on 565, your car will be shadowed by giant space crafts. However, if outer space doesn't get your kids riled up, there are tons of other things to explore!
Space & Rocket Center
The last time we visited Huntsville, we went specifically for the
Space & Rocket Center
because we were gifted a family membership to Nashville's
Adventure Science Center
, and they have a reciprocal membership agreement. We got in free—which was great, because our littles lasted about two hours and then were DONE. Most of the exhibits were way to advanced for the boys at that time, so when we go back I'll take care to research what
the traveling exhibit
is and wait for one that is specifically geared for their age group. (I would definitely do this if I had to pay for entry!)  That said, we found a lot of cool stuff to explore in their outdoor Space Park and the new Davidson Center.  We definitely plan to head back occasionally as the boys grow and their understanding of space exploration matures.
If you have a train lover in your clan, you
have
to stop here. Grab some lunch from
 Dallas Mills Deli
, and walk over to this free park. You can check out
Huntsville
's history on rails and walk around a live in-ground Roundabout.
The Square
Huntsville
boasts a revitalized downtown square around its courthouse. My favorite place to go with kids is for pizza or gelato at
Sam & Greg's
 and then mosey down to the spring-turned-duck pond that originally inspired John Hunt to settle the land.
Ok, this one isn't necessarily geared for children, but it's one of my favorite places in town. An old textile-mill-turned-shoe-factory has been lovingly restored and reinvented as a community space for artists and the public. Artists can rent spaces with 24-hour access, and you can walk through their halls admiring their work. Go on Saturday afternoon to catch inspiration at the Artist Market or Friday night for a free, family-friendly Concert on the Docks. Definitely check out the
Happy Tummy
for grub while you're there!
I haven't been with kids or since they renovated a few years ago, but I remember that the plans were amazing! Their
Stender Interactive Gallery
offers a hands-and-feet-on exploration of the tenants and history of art and design.
Lovely indoor playground for kids with a great room tailored to those under six.
Beautiful trails (though I'm not sure I would leave some of the gems in TN that are closer if you haven't explored them yet). If an outdoorsy family is heading that way, however, these would be two great places to explore.
For the drive back:
Instead of taking 565 back out of town to hit I-65, you can take Jordan Lane/Highway 53 northwest instead. Right at the border of Tennessee and Alabama, you can explore 
Scott's Orchard
in Hazel Green. If the apples are ready, you can get a peck of apples or two. Last time I went, we weren't allowed to pick our own, but we could walk among the fruit trees selecting the apples we wanted from over 8 varieties in their little shop,and the apple cider slushies were worth the stop.