Thanksgiving is my favorite holiday, aside from Christmas. I mean, who doesn't love a holiday where we can eat, nap, eat, nap and watch a parade, a dog show and football day? On top of all that, it is the day to be extra thankful for all the good things we have. We have some fun ways to get the kids involved in this holiday season.
Collect Canned Goods to Donate to a Local Food Shelter
Helping people is always a good idea, and you could do this activity any time throughout the year; but use the holiday to show how to be grateful, thankful and the importance of giving back. Have your kids collect canned goods from neighbors, sort through your own pantry, or shop the dollar store for pantry stables. There are so many organizations who could use the donations, check them out here.
The Macy's Parade just takes me back to my childhood. It is so nostalgic, so I love to carry on this tradition with my kids. The fun floats, the big character balloons, the music, the dancing. It is so much fun and the perfect way to kick off the Thanksgiving morning. Click here for some fun coloring sheet and word search printables to make it more interactive. This years balloons will include my family's favorite character Bluey, Beagle Scout Snoopy, and so many more!
Have Your Own Game of Football in the Backyard!
Is anyone a HUGE fan of FRIENDS like I am? The Thanksgiving episodes are the best, and one of my favorites is when they have a game of football for the Gellar Cup (a troll doll ha). Get your family to huddle up, and burn off some energy and calories (you will need it after that big Thanksgiving dinner!). Make it fun, and make your own family trophy and make it an annual tradition to see who wins!
If football or being physical isn't your thing, here is a great list of other games you can incorporate!
The Dog Show is another tradition for me. I have enjoyed watching for years with my kids. We love the see the different breeds and try to guess who will win. Coverage beings at noon on NBC!
Let the Kids Help in the Kitchen
I know it can be stressful to have too many chefs in the kitchen, especially on a day like Thanksgiving, but find a dish or dessert and let the kids get in on the action. Maybe the day before when you are prepping, or something as simple as putting the dinner rolls on a baking sheet. I know my daughter takes so much pride in helping me cook. Even when she is simply stirring something up, she tells everyone she helped mommy cook. Let the kids see the importance of preparing meals for others.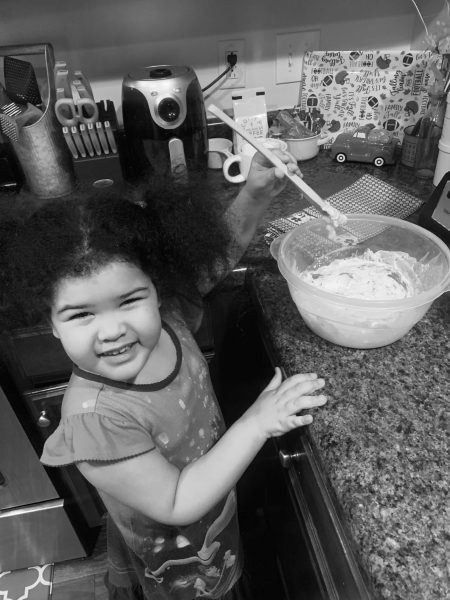 Have Them Set the Table With Their Own Decorations
Allow your kids to decorate the table with their own handmade creations. They can make placemats, name cards, or drawings for the attendees. Pinterest has loads of good ideas, and here is one of my favorites to follow.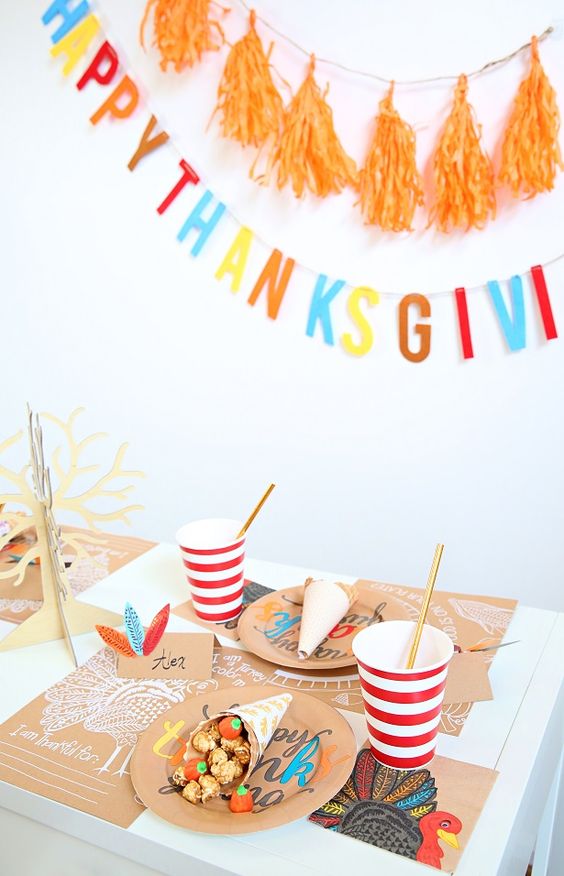 Be Thankful
Make sure you stress the importance of the holiday by going around the dinner table and having each person list what they are thankful for. It is always fun to hear what the little kids will mention, but this will drive home the point of the day. And this is a good habit to bring to the dinner table every night. Thankfulness and gratitude can change a mood real quick!
No matter your traditions, remember not to get too caught up in the stress of creating the perfect meal or table, and have some fun with your kiddos.
Share your favorite family traditions with us!