Thanksgiving is a time for families to come together, express gratitude, enjoy delicious food, stress clean, cook Pinterest-worthy dishes, and possibly even relive some childhood trauma! You can see I have mixed feelings about the holiday.
Let's be real, as a mom, it's often your responsibility to orchestrate this special holiday, but it doesn't have to be a daunting task. With a little planning and creativity, you can host a memorable Thanksgiving that everyone will cherish and no one will add to their list of past trauma.
Make it Easy:
No Scrub Dishes Have you seen these Aluminum disposable pots with lids from Amazon? They are the answer to my Thanksgiving Day prayers. Can I get an AMEN for no more scrubbing pots after you make a dish? Simply toss them after use; they're safe for both the oven and stovetop.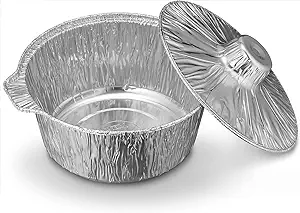 Easy Cleanup Recently a cute idea came across my feed (They know me so well) that made cleanup much easier. Take a roll of brown paper, spread it out on the counter or buffet or wherever you serve the food, write what each item is on the paper beside that item. This helps you from having to answer the "what is it" questions, and helps with cleanup- all of the drippings from service can be balled up and thrown away!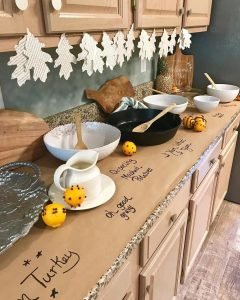 Credit: https://pin.it/7cfRBYV
Easy no bake dishes- Unless you have a quadruple oven, space for dishes will be scarce. Plan to make a no bake dish so that when the fight for oven space is on, you'll be sitting back relaxing. Deviled Eggs are my go-to because the kids can help me make them (Fun memories for them), they do not require oven space, and they are cheap and easy to make. If we have a gathering everyone knows I'm bringing the eggs.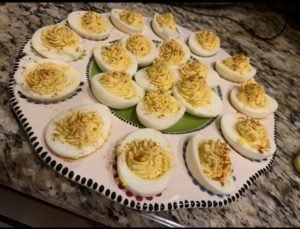 Make it Fun:
Thanksgiving Crafts: Give your mom guilt a rest by planning a fun Thanksgiving Day craft for the kids. One craft I love is pre-cutting strips of tissue paper and asking the kids to ball up each one and glue it to a page. The page could be a Turkey or pumpkin, anything festive. They spend a good chunk of time balling up these strips and gluing them to the page and the craft requires little adult supervision so I have more time to sip my Thanksgiving cocktail and catch up with family.
Games and Activities: Planning some outdoor yard games and activities can be fun and can get the kids out of the house!  Whether it's cornhole, croquet, basketball, etc., keeping everyone entertained adds to the festive atmosphere and to your sanity.
Make it Memorable:
Cooking Together: If your children are old enough, letting them assist in the kitchen before company comes can be fun and a great bonding activity. My kids love mashing potatoes, cracking eggs, stirring/mixing things. Make sure to do it at a time where the stress is low and you're fresh off a call with your therapist where perfectionism was the topic.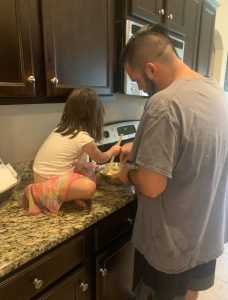 Remember Gratitude: Among all the other things, it's important to sprinkle a little "thankfulness" into thanksgiving. A visual is great for remembering the reason for the day. My brother's family made a simple but effective cloth banner and each year everyone writes what they are thankful for that year. It's a great keepsake and helps you remember your blessings, and all the things you were thankful for in various phases throughout the year. Last year my daughter was thankful for "Oreo stuff". In a few years she may be thankful for her mom for planning this glorious day. But seriously, it's a tear-jerker!
Make it Work for You:
Set Realistic Expectations: You don't have to be a Pinterest princess this Thanksgiving.  Go for the dish that you're comfortable with and that makes you happy. Embrace the inevitable imperfections and remember that the essence of Thanksgiving is spending time with loved ones, and not making it picture perfect- Those expectations will surely let you down.
Take Breaks Aunt Suzy start talking politics? Grandma going on about your cobb webs here and there? Feeling generally overwhelmed by the number of people and endless list of things to do? Remember it's okay to take short breaks throughout the day to relax and recharge. I like to plan a SOS word with my partner in advance to where I can slip away if I'm overwhelmed and he steps in without questions asked.
In the end, Thanksgiving is all about creating a warm and welcoming atmosphere for your loved ones. By making it easy, fun, memorable, and tailored to your needs, you can Thanksgiving like a pro while enjoying the holiday with your family. The key is to keep things simple and focused on what truly matters – being thankful and spending quality time together.