It is the time of year when absolutely everything is pumpkin flavored, and at our house the treats are no exception. It might be a cliché, but what a delicious cliché it is! I love to cook, and (as we have covered) I love Fall, so cooking with traditionally 'Fall' ingredients is something I quite literally look forward to all year long. This year, I decided to branch out from my typical recipes of pumpkin bread, pumpkin bread, and more pumpkin bread. I was able to come up with three yummy recipes using only one can of pumpkin! (Actually…only about half a can.) All pumpkin amounts below are based on what I like but can easily be adjusted based on what sounds good to you!
First up…
Pumpkin Coffee Flavoring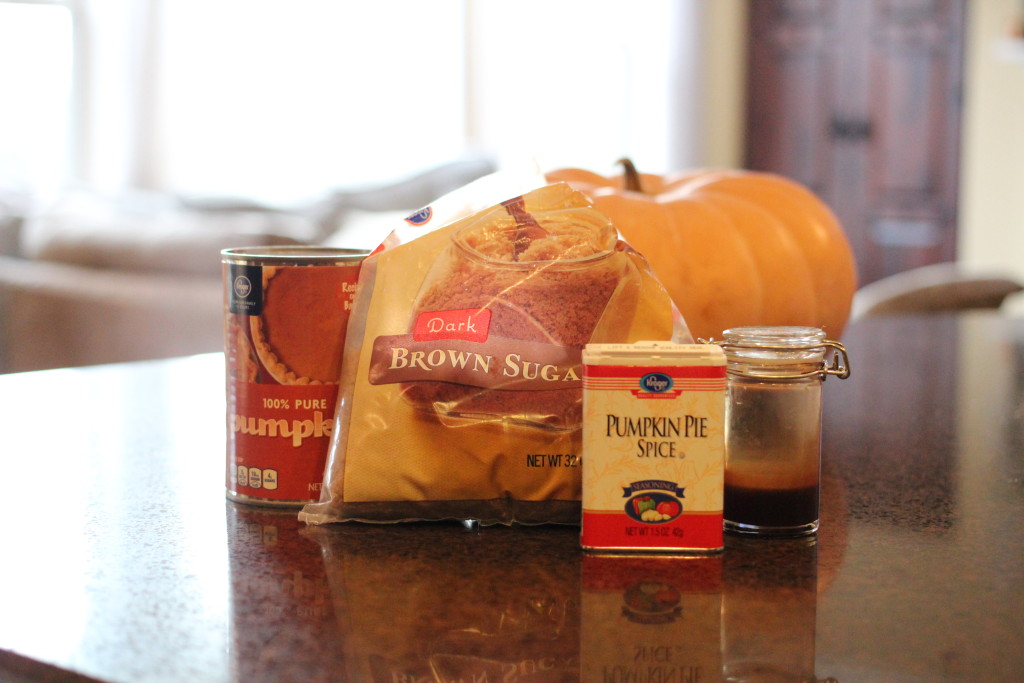 2 tablespoons canned pumpkin (Be sure to use plain pumpkin not pumpkin pie filling!)
1 1/2 teaspoons pumpkin pie spice
1/4 or 1/2 teaspoons vanilla (depending on your preference)
1 cup water
3/4 to 1 cup brown sugar (light brown sugar or dark brown sugar—even white sugar would work). The amount of sugar depends on how sweet you like things. I used 3/4 cup because I prefer it a little less sweet.
First, make a simple syrup with the water and sugar by placing both in a small sauce pan and heating the water until the sugar dissolves. Don't bring it to a boil or try not to stir too much! Remove from heat. Add pumpkin, pumpkin pie spice, and vanilla and stir until combined well. Run through a small sieve or cheese cloth into an airtight container. Add to your morning coffee and enjoy! This recipe makes about 7 oz and will stay good for up to 2 weeks in the fridge.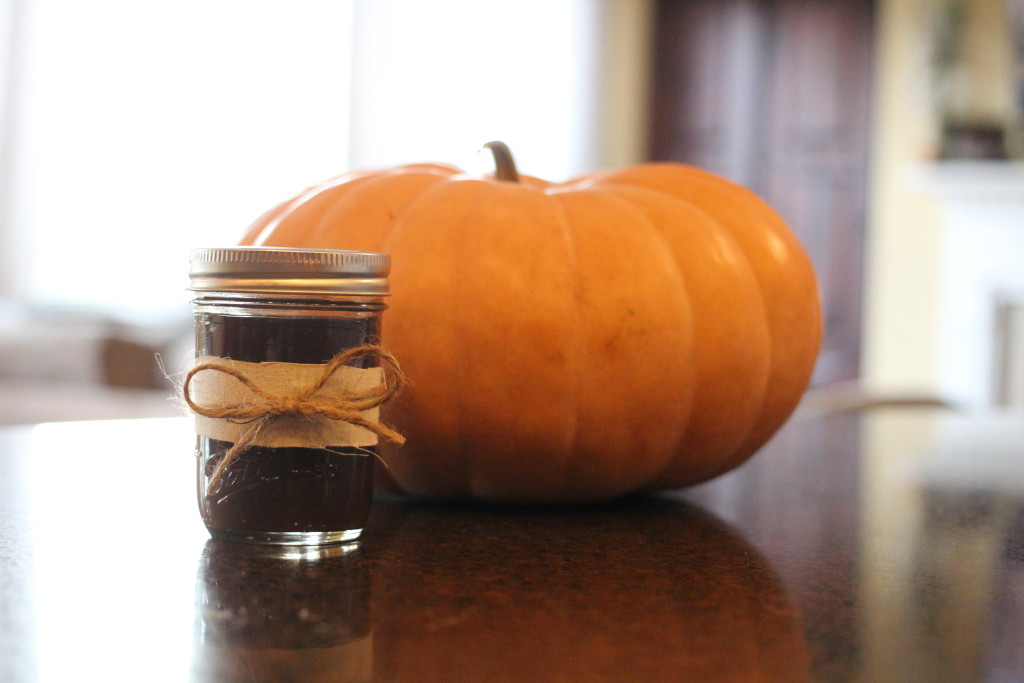 Next…
Pumpkin French Toast
6 slices of bread (Type of bread is up to you! I used Italian. )
3 eggs
2 tablespoons plain canned pumpkin
1 teaspoon vanilla
3/4 tablespoon pumpkin pie spice
Mix all ingredients together (with the exception of the bread of course). Heat a greased pan or skillet on medium to medium-high heat. Dredge the bread in the egg mixture and cook bread in the skillet, flipping once, lightly browning both sides. Eat plain or top with maple syrup and powdered sugar. As indicated, this mix will make 6 pieces of toast; it can be easily doubled or tripled based on your need.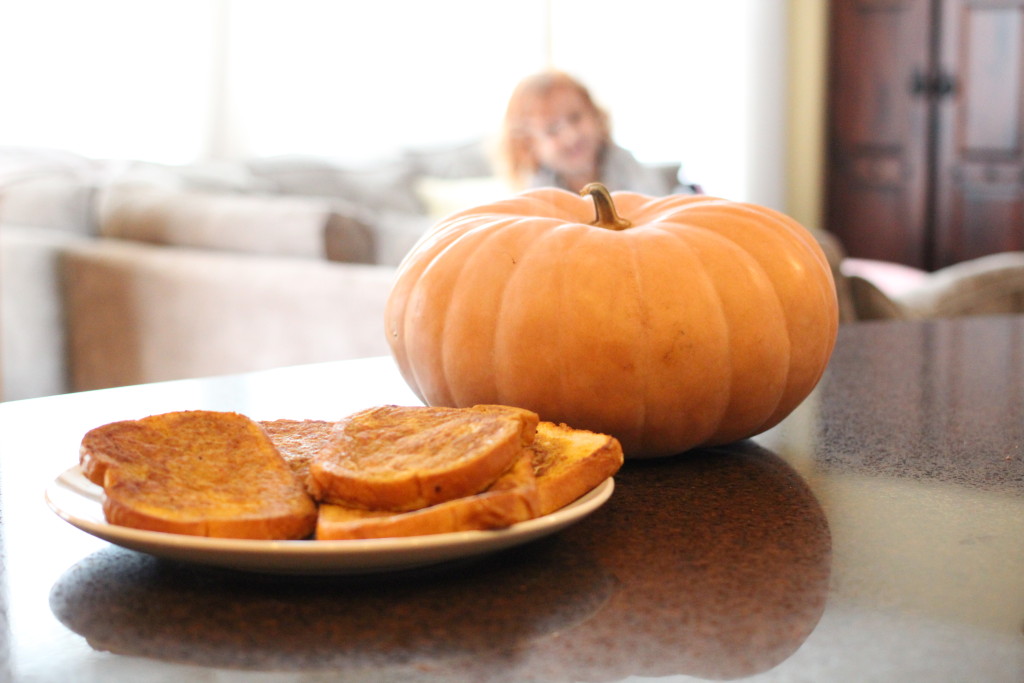 Lastly…
Pumpkin Spice Butter
1 stick of room temperature butter (You will want to take the butter out of the fridge a couple of hours before you want to make this. Microwaving it will give it a very different texture than just letting it soften.)
2 tablespoons plain canned pumpkin
1 teaspoon pumpkin pie spice
2 1/2 teaspoons white sugar (This can be adjusted for the level of sweetness that you want. Know that the more sugar you add, the more you'll be able to detect the graininess.)
After the butter has softened, mix all ingredients VERY WELL. You don't want large chunks of pumpkin. Once everything is mixed, transfer to a sealed container for storage. Store in the fridge for up to 2 weeks. This tastes good on pretty much everything. I have yet to try it on cardboard, but I'm thinking it might even make that edible.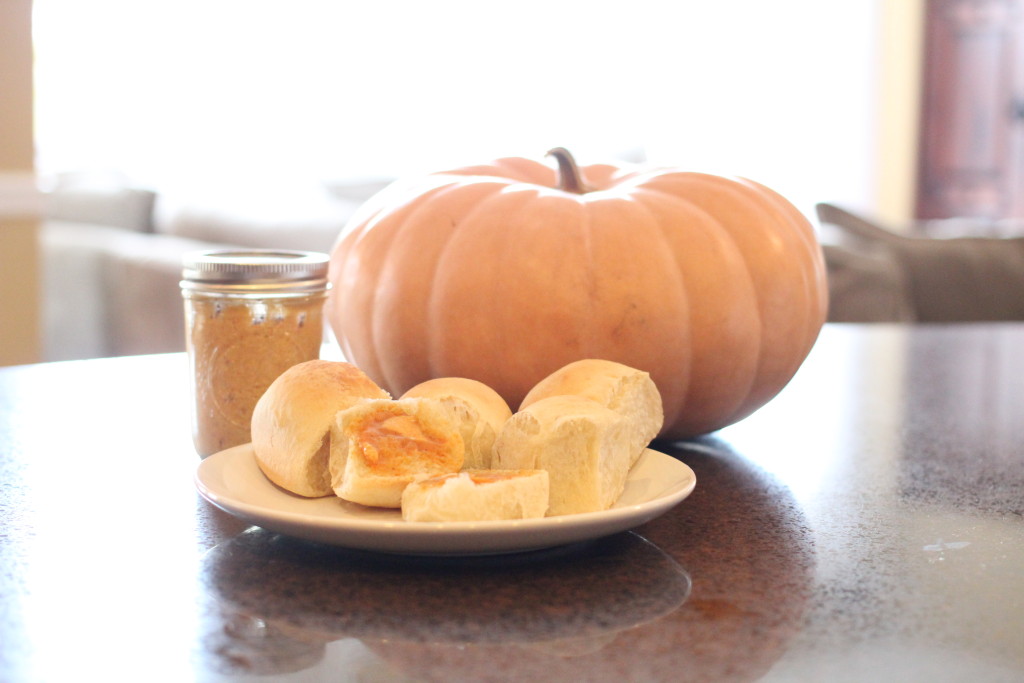 Since all of these recipes use very similar ingredients, they are super-easy to make at the same time. We thoroughly enjoyed our pumpkin themed breakfast and hope that you will too. Enjoy!