I love Valentine's Day because it is the time of year when everyone seems happy, in love and let's not forget the aisles and aisles of chocolates and candies. As a child, I loved creating Valentines cards and a fun box to take to school to collect cards in. Here are some fun, easy crafts for you and your kids to do- Better yet, they are budget friendly!
---
Make your own Valentine's box
How cute is this basketball box for all the little sports minded kiddos? This is an easy creation with household items that most of us already have lying around! A shoebox, black electrical tape, yellow pipe cleaner, brown string, a smaller box (for the goal), paper and markers! And you can easily find a little ball in most of your kids' toy boxes! Check out the original post here.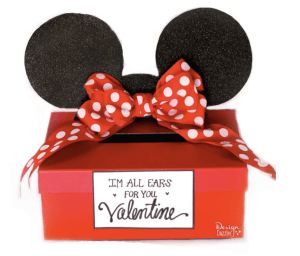 Most of us have a Mickey or Minnie lover in our houses, so you are sure to have a pair of mouse ears laying around! If not, these can be easily fashioned with construction paper or cardboard. Get a box, wrap or color it red, add a bow and a sign and you are good to go! Check this out for the Mickey version, step by step instructions and a free printable!
---
Make Valentine's Cards
Sure, you can run to any store and buy a greeting card, but how much fun and more meaningful is it to let the kid's create their own. There really doesn't have to be any guidance, as you can give your child markers, crayons, construction paper and let their creativity shine! Or if you want more structure and ideas, here is a fun list of card ideas!
Take the cards to the nursing home for their residents, or a children's hospital! Brighten someone's day and show your kids how to spread love and kindness to others.

---
Let's learn something!
These are wonderful activities for any of my home-schooling mommas; or for someone who likes to learn while they craft.
This is a fun activity that you can eat after you are done! All you need are some toothpicks and these gummy heart candies . This STEM activity helps to teach kids problem solving, critical thinking and fine motor skills. As they build the structure taller, they will need to think of how to keep it stable. I think this is a fun hands on learning experience! For more ideas like this, please check out this wonderful post.
---
Crafts for the toddlers
I love the beauty and simplicity of this one! This momma has the right idea for her toddler. By using coffee filters and watercolors, you can create these beautiful works of art that fill your heart and home with beauty on a nice, sunny day!
---
Fun on the run
How much fun is a scavenger hunt! This is sure to entertain kids of all ages; get everyone involved and make it a family activity. Check out the free printables here.

---
There are so many creative, fun and interactive things you can do to get your child involved and to celebrate Valentine's day with! I hope that are able to try a few of these with your kiddos. Be sure to share your pictures and your favorite crafts and activities with us! Happy Valentine's Day!