It's the holiday season – and everything that implies. Time is short and the list of social engagements is long. So let me save you some time. THIS is the dessert you need to bring to your child's teacher appreciation luncheon, book club gathering, work holiday potluck, tree decorating party… Whatever the event on your calendar, THIS cake will be THE hit. Just check the guest list because it's what I'll be bringing. Then again, it wouldn't hurt to have two.
Because I hate scrolling all the way to the end – here's the recipe. Step by step instructions follow.
Dark Chocolate Peppermint Bundt Cake
Ingredients:
1 ¾ cups all-purpose flour
¾ cup cocoa powder
2 cups sugar
1 ½ tsp baking soda
1 ½ tsp baking powder
1 tsp salt
1 cup milk
2 eggs
½ cup vegetable oil
1 tsp peppermint extract
1 cup boiling water
Directions:
Heat oven to 350˚F. Grease and flour (or use a baking spray) a bundt pan.
In a large bowl, add the sugar. Combine the flour, cocoa, baking powder, baking soda and salt in a sifter, then add to the sugar in the bowl. Mix with a whisk, breaking up any sugar lumps.
In a 4-cup pyrex measuring cup, add the milk, oil, peppermint extract and eggs. Whisk to combine.
Pour the wet ingredients over the dry ingredients, whisk to combine.
Add 1 cup of water to the pyrex measuring cup, bring to a boil in the microwave, then pour over the cake batter. Whisk to combine – the batter will be thin.
Pour the batter into the prepared bundt pan. Bake for 35-40 minutes, until a cake tester (or toothpick) comes out clear.
Allow the cake to cool 10-15 minutes, the gently invert onto a cake plate.
Allow the cake to cool completely. Sometimes I'll make this the night before the event, then I'll "frost" it in the morning.
To Decorate:
Unwrap and break 3-4 candy canes into 2-3" pieces, place in a food processor. Pulse briefly to crush the candy canes.
In a small microwave-safe bowl, add 4 ounces of semi-sweet bakers chocolate. Following the instructions, microwave for 20-30 seconds at a time, stirring frequently, to melt.
Using a spoon, drizzle the melted chocolate over the cake.
Sprinkle the cake with the crushed candy canes – your little ones will love to help (especially if you let them lick their fingers).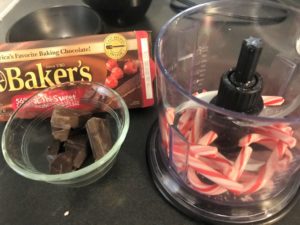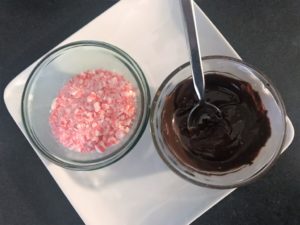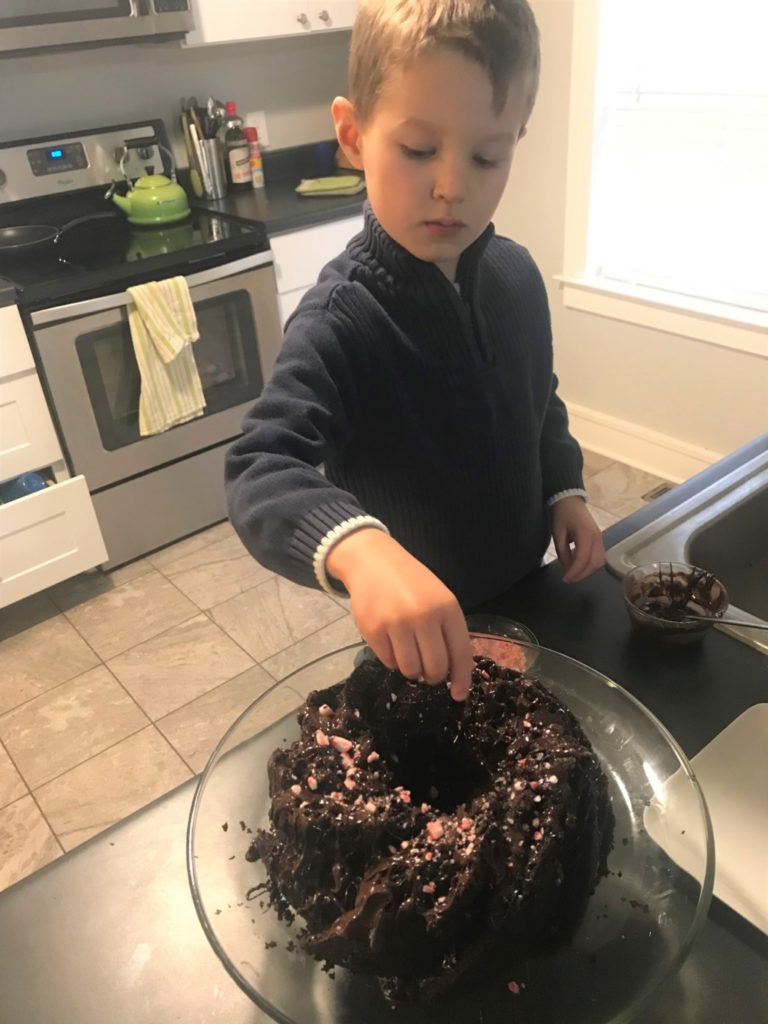 Ok, full disclosure…
I made this cake after I got home from work at 9 pm. After it baked, I allowed it to cool but forgot to remove it from the baking pan before I went to bed. Whoops. Naturally one-third of the cake stuck to the pan, but I was (more or less) able to get it out and stack it back on the cake. At this point the cake looked like a hot mess – but after the chocolate drizzle and peppermint dusting – it's mostly passable! Because that's what we do mamas – we MAKE IT WORK.
And you can eat this cake ALL YEAR LONG:
This is actually the only chocolate cake recipe I make. In December, I use the peppermint extract and a dusting of crushed candy canes (it's festive!) But the rest of the year I use an almond extract (and a dusting of sliced almonds – so pretty!). This recipe can be made into a layer cake using 2 9-inch round pans, a sheet cake (using a 13 x 9 x 2 inch baking pan) or cupcakes. Just modify your cooking times, 30-35 minutes for round pans, 35-40 minutes for a rectangular pan, and 15-18 minutes for cupcakes (or when the cake tester comes out clear). The cake is rich and sweet enough to eat with just the chocolate drizzle, but it's also a hit as chocolate almond cupcakes with strawberry frosting. Go nuts and make it your own!
From our home to yours, Happy Holidays!